Best school in Indirapuram Earth Day is celebrated on the 22nd of April every year globally. All schools celebrated it in many ways. St. Andrews World School, the Best School in Indirapuram also celebrated this day. The team of this school organized the plantation by students on that day. This day is celebrated as an activity day with no studying. Senior Students made posters on the topic of natural resources and saving them. Class 8th students give speeches on the topic of Natural Resources and ways to save them. Through this, they tried to spread the message of saving natural resources. We took an oath on that day to save the Earth. Every year we do this and teach our future generation to do the same.
Our Principal Mrs. Shuchi Sood gave a speech on that day about how to save and utilize our natural resources to teach children about it. This is all just a part of educational activity in modern Education. It is necessary to teach every child about their duty to the nation and environment.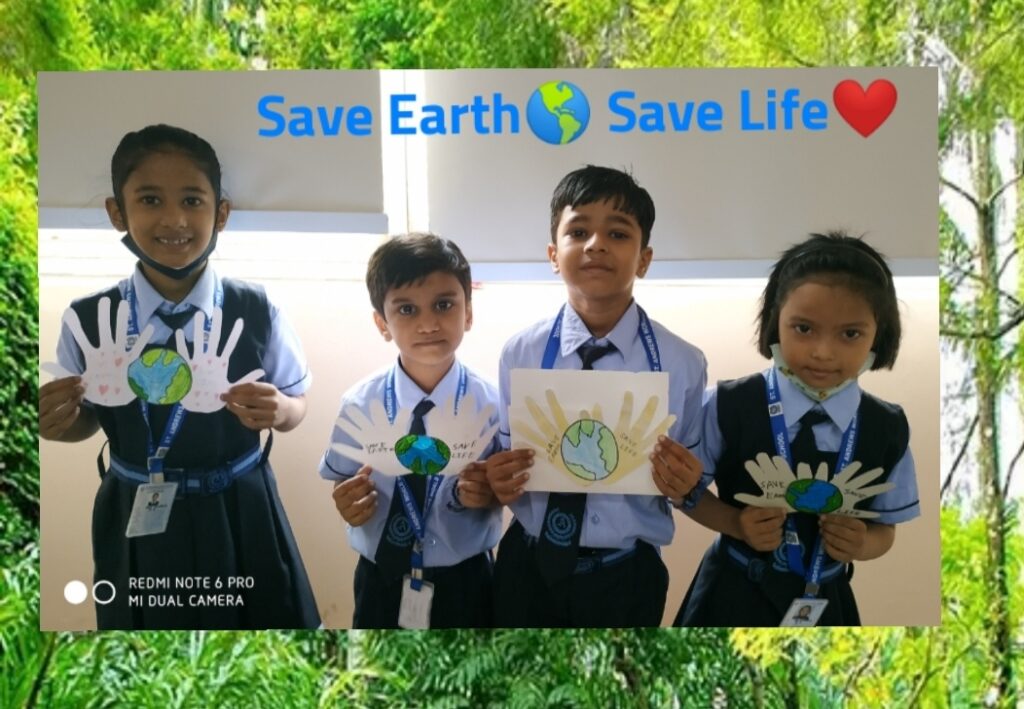 As we know today the natural resources are diminishing day by day and also polluted. It is our duty to save it for our future generation otherwise after some time all these exhausts. These types of educational activities increase awareness of saving natural resources, also increase the creativity of children and make them aware of the environment. It will lead to minimizing the waste of natural resources.
Now we will discuss the importance of this day and ways to celebrate Earth Day with Your Child!
Importance of this day and ways to celebrate Earth Day with Your Child at St Andrews World School
Earth Day is the birthday of Air, Water, and Earth. These are our natural resources. We have to save them for our new generation. It was first celebrated in 1970 and gained a major success. After that day, it is celebrated every year.
Here are some activities, you can do to celebrate Earth Day with your children at the Best School in Indirapuram
Earth Day Activities are done by Best School in Indirapuram
Ideas Generating Activity at the best school in Indirapuram
Ask your children how they can save the natural resources at any place. Tell them about the ways to protect natural resources. Discuss the multiple uses of water. Save electricity is also part of it. Our best school in IndirapuramTrees Plantation" St. Andrews World School" also uses this activity.
Trees Plantation
It is the most common activity which every school does with their children in the school garden. Trees are very useful for us because they give us oxygen to breathe. If there is no oxygen then it is not possible to live. The Best School in Indirapuram performs it every year through all the students.
Play Drama and Puppet shows
Learning from drama and puppet shows is very easy. Junior children easily grab information from this activity. Also, Senior Students actively take part in performing.
Learn through music at the Best school in Indirapuram
Music also teaches children about it. Young ones love music. There are many songs available on Earth Day.
Reading Books on Earth Day
There are many books available in the market in which many ways are discussed to save natural resources. The children who love to read books can take advantage of books such as Our Earth, Learn Every Day About Our Green Earth and The Earth and I, etc.